Antioxidant

Oxidation is a normal metabolic process that allows horses to transform the carbohydrates, fats, and proteins they devour in meals to energy—energy to grow, perform, and reproduce. One unfortunate, although completely unavoidable, spin-off of oxidation is the creation of free radicals, compounds that have the potential to irreparably damage cells. If left unchecked, the oxidation that occurs at the cellular level in horses and other mammals can cause muscular fatigue severe enough to compromise performance. Antioxidants are important to counteract the damaging effects of oxidation and protects from free radicals.

In instances of strenuous exercise, natural stores of antioxidants have difficulty providing sufficient protection against the cascade of free radicals generated from aerobic metabolism, making it necessary to supplement antioxidants.

Antioxidants are compounds that help the horse battle cellular damage caused by oxidative stress. Common antioxidants include: vitamin E, vitamin C, and selenium. Antioxidants are commonly used for support of muscle health, speeding recovery after exercise, support of immune function, and as adjunct therapy for horses with neurological challenges.
Which Solution Is Right for Your Horse?
Nano-E® Liquid natural-source vitamin E with superior bioavailability. Nano-E is a revolutionary natural-source vitamin E supplement for horses. Liposome encapsulation and nanodispersion ensures rapid and superior bioavailability for all horses.
Nano-Q10™ Coenzyme Q10 antioxidant for horses. Coenzyme Q10 is a powerful antioxidant, protecting cells from highly reactive chemicals called free radicals that can damage cells and their DNA. Nano-Q10 features advanced nanotechnology to create a rapidly available and absorbed source of Coenzyme Q10 that has been shown to be 3X more bioavailable than powdered ubiquinone.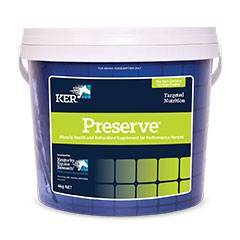 Preserve® Muscle health and antioxidant supplement for performance horses. Preserve is a scientifically formulated supplementary source of natural vitamin E, organic selenium, magnesium, and vitamin C.
Learn More
---